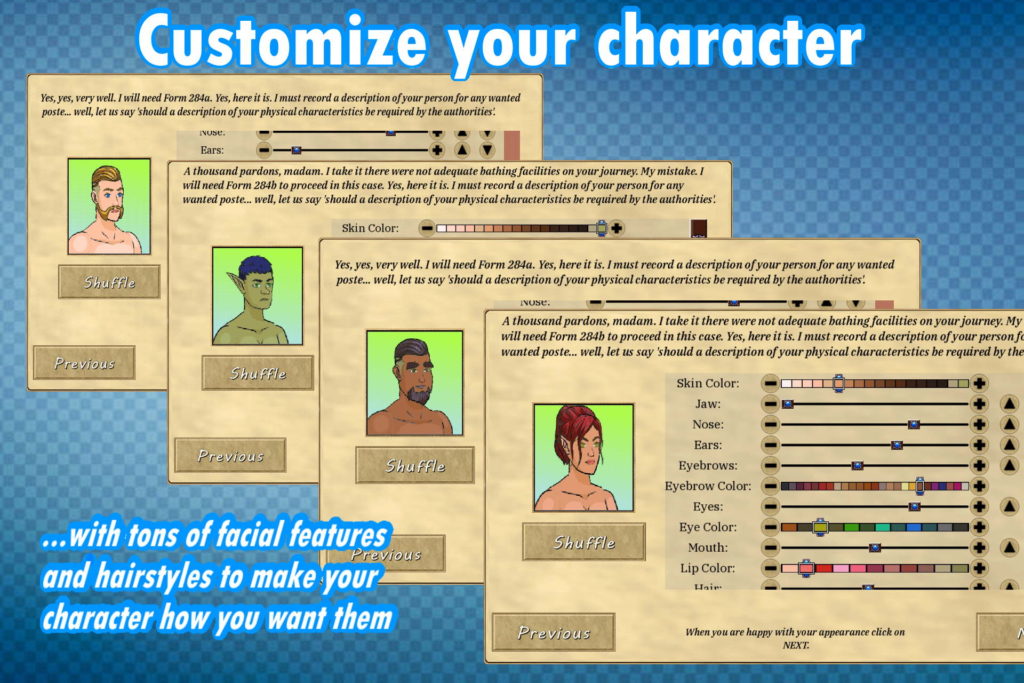 When you start a new game you'll be able to design your character essentially from scratch. This PLAYER CHARACTER isn't the only one you will play in the game, but it represents YOU. Hirelings may come and go, but your player character is the center of your IDC universe. It is their money you will spend, their house you will build, and if they die, everything and everyone else is gone.
You can have as many saved games as you wish, each with its own player character that is the center of that universe. But the games will not cross and are distinct.
Gender
Your first choice for your character is which gender to choose. As far as gameplay goes, there is no difference. However, there are several facial features, hairstyles, etc. that are exclusive to either gender (for example, females can't have beards). Other than that, it is up to you which you will start with.
Race
In the IDC universe there are six races to choose from: Human, Dwarf, Half-Goblin, Common Elf, Dark Elf, and Golden Elf. Which one you choose will have a significant impact on the physical characteristics of your character (e.g., male Dwarves all have beards, Elves have no facial hair) but can also limit your Class selection (see next section).
Additionally, while Humans are the "default" race, the other races all have various benefits and disadvantages compared to Humans. For example, Dwarves tend to be stronger but have less mobility. Some races have unique abilities and skills that you automatically receive that aren't available to others, while others have higher resistances to certain elements.
The first time playing, you may want to stick to being a Human to keep all your options open, but you can play around with the others after you become more familiar with the game. But even if you do choose to be a Human, you should familiarize yourself with the various pros and cons of the other races as you are likely to hire non-Humans at some point for your expeditions.
Facial Features, Body Sizes and Hairstyles
IDC has a lot of different selections to choose from to customize the look of your character. Which options you choose are completely aesthetic and have no bearing on your capabilities in the game (e.g., being shorter does not necessarily make you slower, wider does not make you stronger, etc.). Many of the choices available are controlled by the Gender and Race selected as described above. For example, Half-Goblins all have green-tinted skin of varying shades, longer noses, and long, pointed ears, whereas Humans and Dwarves cannot have pointed ears.
Class
There are eight different classes: Fighter, Mage, Cleric, Ranger, Paladin, Druid, Rogue and Alchemist. Each of these classes are very distinct and most have a unique set of abilities that are typically not available to other classes, although some abilities do overlap. For example, a Druid's set of abilities will contain various nature-based spells that tend to do elemental damage. A Fighter is going to have mostly melee-based abilities that are handy in close-quarters combat. A Cleric will have a lot of buffs that can boost stats for both themselves and others.
And even if you select a particular class, it doesn't mean that you're locked into a particular fighting style. Rangers and Clerics have various abilities that are either melee or ranged in nature, so you will likely select one of those two branches to pursue when upgrading.
As you level up you will also acquire skills, which can boost particular stats or give you the ability to perform certain actions. While most skills are available to all classes there are some that are exclusive and some that are automatically granted based on class (e.g., Rogues automatically have the Lockpicking skill). There are also permanent negative effects that are applied depending on class.
Additionally, each of these classes have affinities for particular weapon types. For example, Paladins prefer one-handed swords, maces (either one or two-handed), polearms and spears. Contrast that with a Mage who prefers daggers, staves or wands. It's not that they can't use other weapons, but they receive an automatic +10 accuracy bonus for using a weapon they have an affinity for, so trying to specialize in a weapon outside of your class affinities puts you at a disadvantage. Refer to the Weapons section in this guide for more information.
There is also another consideration when you select your class. Each time they level up, Mages and Druids gain 1 ability and 1 skill. So by the time you reach, say, level 8, they will each have 8 abilities and 8 skills (not counting automatic ones based on class or race). For all the other classes, they gain 1 ability and 1 skill every odd level, and 2 skills every even level. So at level 8 they will have 4 abilities and 12 skills.
There is no "right" or "wrong" class to choose, or an "easy" or "hard" one. They each have their pros and cons, and generally when creating a larger party by bringing on hirelings you will tend to select different classes so that they complement each other in battle. So which one you start your game with is entirely up to you.
Attributes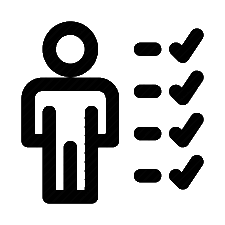 There are six Attributes:

Strength,

Intelligence,

Charisma,

Constitution,

Dexterity and

Fortitude. When you start, each of these is at an 8 (unless you chose a race that modifies it) and you will have 8 points to spend. Which ones you should spend your 8 points on can depend a lot on your class as well as your fighting style. Do you think you'll prefer melee weapons or ranged weapons? Do you want to use abilities more often? Would you rather have a lot of health? Would you rather get more money for selling loot?
What you should NOT do is try to evenly spread the 8 points amongst all 6 attributes. For example, unless you are a Paladin it isn't recommended that you spend anything on Charisma in the beginning. Maybe later when you get to the point of bringing on hirelings, but its probably better spent on other attributes early on.
If you are going to focus on ranged weapons like a bow, crossbow, slingshot, or wand, you're going to want more Dexterity and less Strength so as to improve accuracy. But if you will prefer melee weapons, a higher Strength means you will do more damage, and while boosting Dexterity will improve your defense and your melee accuracy.
Unless you are a spell-caster like a Druid or Mage, don't bother with Intelligence. Later on, depending on your class, adding to this may help with certain abilities, but Fighters are rarely better in battle with high mental acuity! But for Mages and Druids, adding to Intelligence will boost not only spell accuracy but also spell damage.
You should probably slot at least 1, maybe 2, to Constitution no matter what class you are. Doing so will boost not only your health (+3) but your stamina (+3) too, and stamina is very important in this game. Strength will boost stamina more (+5) but boost health less (+1).
Don't neglect Fortitude! Besides boosting most resistances to negative effects like bleed, slow, weak, etc. by 5% for each point slotted, it will boost stamina regeneration by half a point per turn. That can be significant when you're low and trying to replenish it during battle.
Also remember that even for spell-casters, Strength determines how much loot you can carry. If you don't ever slot to it, you will soon find that there is more loot than you can carry out and you will have to make some hard choices.
Again, what you choose to slot to depends heavily on class and play style, but here are some sample recommendations for your first time:
Fighter or Paladin: +3

STR, +2

CON, +2

DEX, +1

FOR
(maybe trade -1 STR for +1 CHR on the Paladin)
Mage or Druid: +3

INT, +2

CON, +2

DEX, +1

FOR
(maybe trade -1 INT for +1 STR to get more stamina)
Cleric, Ranger, Rogue or Alchemist: (ranged) +1

STR, +2

CON, +3

DEX, +2

FOR
Cleric, Ranger, Rogue or Alchemist: (melee) +3

STR, +2

CON, +2

DEX, +1

FOR
Abilities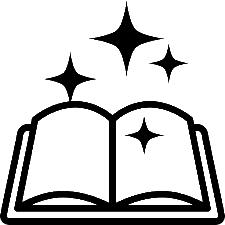 Abilities are a huge part of the game, and frankly, probably the funnest part. What can be better than setting a monster on fire, right? The game has a large variety of abilities that are available, and most are specific to each class. Initially you'll have a list of between 2 and 5 abilities to choose from, depending on class, but as you level up more abilities become available.
There is an entire section in this guide dedicated to Abilities, and you should read that to help decide which you should choose.
One thing to note is that all characters automatically have First Aid, Power Attack and Shove. You may have others automatically depending on your race.
Skills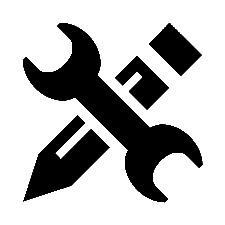 Similar to Abilities, there is a large selection of Skills to choose from as you level up, and these are covered in more detail in another section of this guide. However, only weapon skills are available at level 1. This is done to simplify the task of creating your initial character as these are the most likely to benefit you initially, and the full list of skills can be somewhat daunting.
You should generally only choose a weapon skill that is listed in green as these are weapons that (based on your class) you have an affinity for. As stated before, having an affinity for a given weapon gives you +10 ACC, which is significant (that's like getting two of these weapon skills for free). Choosing the matching weapon skill will give an additional +5 ACC, as well as +10% damage, boosting your ACC by 15 (that's roughly a 15% better chance to hit on any given attack).
Even if you pick something like a Fighter that has an affinity for two-handed swords or two-handed axes, keep in mind that those weapons are more expensive and you likely can't afford one right off the bat. Maybe you choose the Two-Handed Swords skill and then buy a cheap one-handed sword until you've gone through one or two worlds and saved up enough to buy a two-handed one? Maybe you choose the One-Handed Swords skill to boost your stats in the meantime knowing you will switch to two-handed by level 2? It's your choice. But definitely pick something you have an affinity for.
Name and Finishing Up
Finally, name your character or choose a random one, then on the next screen you'll have a chance to finalize your character. You can always go back and choose other options, but going back will clear any selections that were made on subsequent screens.
Finally, the game will give you some info to help you out. Remember that you have no money initially and you'll need to head to the Merchant to sell that gold nugget that you found. Then buy a weapon (ideally one of the same type that you have an affinity for and selected the corresponding skill).